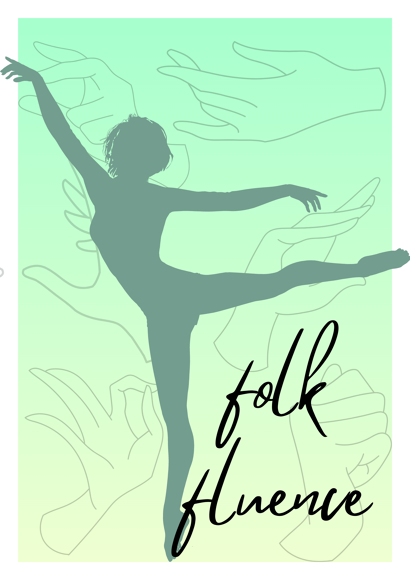 Folk Fluence Solos
Individual interpretations of different Indian dance forms with respect to freedom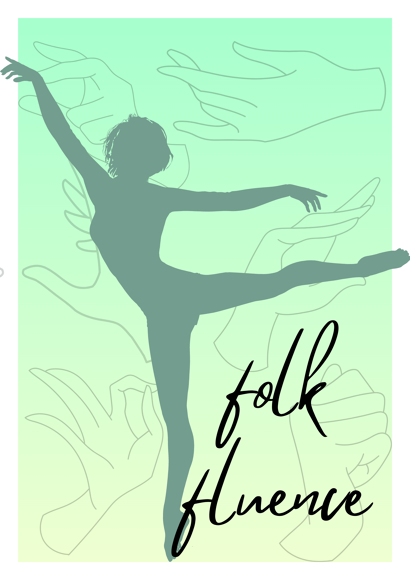 Folk Fluence Solos
Individual interpretations of different Indian dance forms with respect to freedom
Entries
Deepanshu
Ahlcon Public School
Ikshita Salhotra
Ahlcon Public School
Diya Kalra
Ahlcon Public School
Aadya Mitta
Amity International School
Nainika Burman
Amity International School
Aashvi Vig
Amity International School
Anoushka Chowdhry
Heritage Xperiential Learning School
Vanshika Saini
Heritage Xperiential Learning School
Nandini Saxena
Lotus Valley International School
Drishti Soni
Khaitan Public School
Chetana Shankar
Khaitan Public School
Shinjouli Adhikari
Khaitan Public School
Kashvi Sharma
Tagore International School Vasant Vihar
Denis Belinskiy
The State Budgetary Educational Institution
Arya Mahapatra
Shiv Nadar School, Noida
Shree Nithy
Deens Academy
Keosha Masand
Deens Academy
Mentors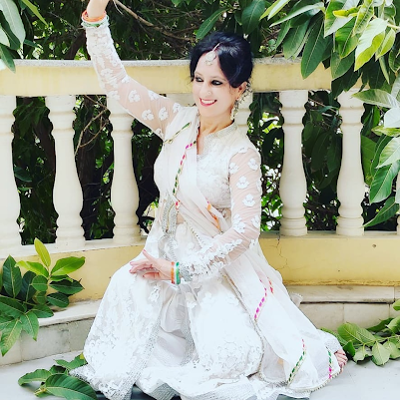 Manju Wazir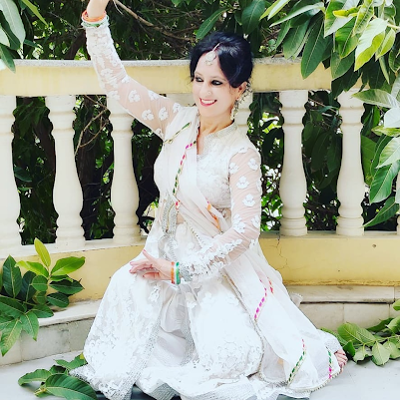 Currently working with Khaitan Public School Sec-39 Noida as dance teacher and is running her own institute of Kathak Dance.
ACADEMICS
Degree Institution
B.Com. Jammu University
DANCE
"Visharad in Kathak from Gandharva Mahavidyalaya Mandal
Post Graduate 5 years Diploma Course in Kathak Dance from Kathak Kendra New Delhi
HONOURS & ACTIVITIES
1. Have been a lead dancer student representing the school D.B.N. Vidya Mandir at various Inter School Cultural Meets & performed in School functions from class II to class XII.
2. Have been a troupe member of J&K Cultural Academy from 1985 to 1989 & has performed in stage programmes all over the country.
3. Have performed in "APNA UTSAV" in Delhi & Bombay under the North Zone Cultural Centre.
4. Sponsored by J&K Cultural Academy in 1989 for Kathak Dance Course at Kathak Kendra N.Delhi.
5. Started learning Kathak under the noble guidance of Late Pt.Durga Lalji and Sh.Munna Lal Shuklaji at Kathak Kendra & completed three years Diploma course in 1992
6. Awarded Scholarship by Kathak Kendra in 1992 for pursuing the Advanced Post Diploma course of two years duration.
DANCE ACTIVITIES
Have given solo as well as group performances under the noble guidance of Sh.Munna Lal Shukla Ji all over the country.
Have actively participated in ballets & compositions of the Great Maestro Pt. Birju Maharaj.
Invited by Kathak Kendra to perform in the prestigious Dance Festival "Sarracchandrika" in Oct'1994.
Proficiency in both FOLK as well as KATHAK dance.
Have worked as a dance teacher in Gandharva Mahavidyalaya Ghaziabad.
Appointed as an examiner for the Annual examinations in Kathak conducted by Gandharva Mahavidyalaya Mandal.
Has conducted a month long Kathak Dance workshop at the J&K Cultural Academy sponsored by the North Zone Cultural Centre.
Conducted a dance programme workshop of Kathak, Kuchipudi, Manipuri & folk dance in Jammu & Kashmir on the invitation of the J&K Cultural Academy in Sept'2005.
Runner up in the All India Dance Championship on "Boogie Woogie" a popular dance program on Sony TV.
Sangeeta Banerjee
Sangeeta Banerjee, is the Creative Director of [One frame story], a Delhi based Photography Company, among other kinds of photography her specialization lies in Dance and performance photography.
An Economics graduate from Delhi University and an Honors Diploma holder in Systems Management from NIIT, Delhi, she started her career, joining as a trainee and moving on to head the Multi-media division (programming and authoring) of Macro Multimedia Systems Pvt. Ltd., Delhi. She was responsible in producing numerous software packages, corporate films and presentations, and CD-ROM titles for national and inter-national clients. Though, her stint in the corporate world was a short and sweet journey of just two and a half years.
She took a sabbatical from her corporate avatar to become a homemaker and mother for the next 5 years. But even during that period, when she was managing her home, her two small daughters, she kept on adding to her skills and knowledge base. She took up courses in script writing and followed her passion in Dance.
She learned jazz, modern, contemporary and ballet for over a decade from the very well known dance academy The DanceWorx, Delhi. She has been trained under many illustrious teachers, like, Mr. Ashley Lobo of The Danceworx, Master Gabor Szikraky, Mr. Jaison Mathew, Mr. Pankaj Guglani, Ms. Sohini Dutta to name a few.
After the sabbatical, she joined back as the Executive Producer, in "0dB Sound Works", a music and sound production company based out of Delhi, and helped in producing successful sound tracks and sound-designs for both television and radio commercials for most of the leading advertising agencies, corporate films and audiovisuals, television serials, live events such as product launches, documentary film makers and other private producers, etc.
This work environment was a god sent opportunity for her, as while being part of this organization her interest in the visual Arts and her love for photography germinated. She decided to formally join a Photography Course, and hone her passion and take it one step further than just a hobby.
After completing a certification in Photography, she established [One frame story], in the year 2012.
As a student of photography, she was fortunate enough to have mentors such as Amitabha Bhattacharya and Anay Mann at APEX School of Photography, Delhi. She continued to add to her skill set by attending workshops with internationally acclaimed photographers like Myriam Meloni and Roy Campbell-Moore.
She believes, that a photograph starts long before one clicks the shutter & once the shutter is clicked, a story is formed and is told in just that one frame! So in that sense, the philosophy of her company is to write stories in just one frame! Being a passionate jazz, modern, contemporary and ballet dancer herself, she understands and relates to dance and human movement. She brings together her knowledge in dance and skills in photography to create beautiful and surreal pieces
of art. Her strong dance background and years of training gives her a wonderful understanding of this Art form and edge over her contemporaries.
As a photographer she has created numerous portfolios for esteemed Artists as well as many new comers. She works extensively with Dancers, Dance Academies and Choreographers, Musicians other Artists and educational Institutions. Some of the established and well known names she has worked with and associated with are Maitreyee Pahari, Vashwati Mishra, Rakesh and Rajesh Sai Babu brothers, Padmashree Ranjana Gauhar, Vikram Mohan Bhat, Leah Raphael Curtis (US), Emily Mcloughlin (UK), Ashok Masti, Ananya Festival of Music and Dance, Sirpur Festival of Music and Dance, Destination North East Music and Dance Festival, The Gati Dance Forum, Central Contemporary Ballet, Japan Foundation Delhi, Friends of Art, Lalit Kala Academy, Sangeet Natak Academy and many more.
Her photographs have been extensively published in newspapers and as publicity material both online and offline, nationally and internationally. Her Photographs got a special mention in Tamron Photo Contest 2015, as among the top 10 photographers in India.
To her, as a photographer though, one of the biggest achievement has been, that her series of Photographs as part of her on going project, "On the deplorable conditions of the Yamuna due to immersion of idols after The Durga Puja celebrations", was noticed by one of the major Puja committees of Chittaranjan Park, Delhi. Her series played an instrumental role in the committee's decision to do "Bhumi Visharjan", and not immerse the Mother Goddess's Idol in the Yamuna.
She is very passionate about Nature and Mother Earth and humanity! As a woman she believes that the strength lies within to do all that one dreams of, to be or achieve in life all that one's heart and soul desires to, and it is never too late to start!