Strings Attached Solos
A virtual inter-school music competition
Strings Attached Solos
A virtual inter-school music competition
Entries
Western Vocals
Neha Gupta
Greenwood High
Anika Bhatnagar
Heritage Xperiential Learning School
Priyanka Pande
Shiv Nadar School Gurugram
Vyoma Lal
Shiv Nadar School Gurugram
Arshia Jaitli
Shiv Nadar School Faridabad
Naysa Ratra
Shiv Nadar School Faridabad
Abhishek Tiwari
Khaitan School
Radhika Mishra
Tagore International Vasant Vihar
Ananya Yadav
Vishwa Bharti Public School,Greater Noida
Adrika Narasimhan
Greenwood High International School
Priya Gondhiya
Deen's Academy
Preet Sainani
Deen's Academy
Aarohi Pillai
Shiv Nadar School Noida
Anuhyaa Trilokyamangalam
Shiv Nadar School Noida
Ramit Tyagi
Lotus Valley International School
Prithviraj Singh Chauhan
Mayo College
Hindustani Classical Vocals
Sumi Vyas
Ahlcon Public School
R. Sai Krupaa
Amity International School
Ria Singh
Shiv Nadar School Faridabad
Beas Bishnu
Shiv Nadar School Gurugram
Manya Gupta
Khaitan School
Suchismita Das
Khaitan School
Shylla Seth
Vasant Valley School
Arushi Shah
Shiv Nadar School Noida
Chaitanyaa Swaminathan
Shiv Nadar School Noida
Shivi Mishra
Lotus Valley International School
Shudhatman Singh Rathore
Mayo College
Kirthana Nanda
Deens Academy
Percussion
Adityavardhan Singh Dagar
Amity International School
Shiv Chopra
Shiv Nadar School Gurugram
Devesh P Sharma
Shiv Nadar School Gurugram
Aakshun Pranjal
Khaitan School
Rishiraj Mishra
Vasant Valley
Yogesh Soni
Vishwa Bharti Public School, Greater Noida
Abhimanyu RV
Shiv Nadar School Noida
Shomudro Ghosh
Shiv Nadar School Noida
Deeptangshu Karmakar
Lotus Valley International School
Keyboard
Siddharth Gianchandani
Heritage Xperiential School
Sparsh Jha
Shiv Nadar School Gurugram
Steve James
Shiv Nadar School Gurugram
Parshav Goyal
Shiv Nadar School Faridabad
Dhruv Ghoshal
St. Columbas School
Akshat Aditya
Khaitan School
Arjun Panwar
Khaitan School
Arihant Jain
Tagore International, Vasant Vihar
Nicole Mathias
Deens Academy
Siya Vermani
Deens Academy
Anika Agarwal
Shiv Nadar School Noida
Vani Upadhyay
Shiv Nadar School Noida
Reyhab Varis
Lotus Valley International School
Kulvir Sharma
Mayo College
Guitars
Shree Rastogi
Ahlcon Public School
Kevin Chugh
Heritage Xperiential Learning School
Rohan Gupta
Shiv Nadar School Noida
Neel Rohatgi
Shiv Nadar School Gurugram
Eeshan
Shiv Nadar School Gurugram
Akul Chitkara
Shiv Nadar School Faridabad
Vihaan
Shiv Nadar School Faridabad
Aryan Nath
Step by Step School
Arin Johari
Khaitan School
Arush Kumar
Tagore International, Vasant Vihar
Krishna Saraf
Tagore International, Vasant Vihar
Vineet Kumar
Vishwa Bharati Public School, Gr. Noida
Divyanshu Rai
Vishwa Bharati Public School, Gr. Noida
Siddharth Sampat
The Deen's Academy
Atharva Shiv Sood
Lotus Valley International School
Khush Vashistha
Mayo College
Own Composition
Ananya Pareek
Amity International School
Nityam Prateek
Lotus Valley International School
Nicole Menezes
Shiv Nadar School Gurugram
Anjana Sinha
Shiv Nadar School Gurugram
Karan Sharma
Step by Step School
Pranjali Sinha
Deens Academy
Kesar Kaur
Shiv Nadar School Faridabad
Strings
Sudarshan Vijayaraghavan Chariar
Heritage Xperiential School
Anjali Pandey
Shiv Nadar School Gurugram
Eesha Sharma
Shiv Nadar School Gurugram
Raghodai Rathore
Mayo College
Gayatri Iyer
Shiv Nadar School Faridabad
Judges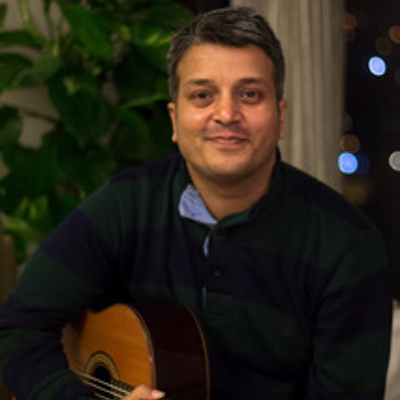 Anirudh Varma
Anirudh Varma is a 25 year old contemporary pianist, composer, producer & performance studies scholar, based out of New Delhi, India. He is a Grade 8 Pianist, from the Associated Board of Royal Schools of Music. He is the curator & creative director of Delhi based contemporary Indian classical ensemble: The Anirudh Varma Collective. The ensemble curated by Anirudh has been the subject of academic research and writing for students and researchers across the globe.
Anirudh's performance repertoire is unique in nature, since he is equally accomplished in both Indian Classical, Western Classical and Contemporary American Jazz music. His performance are a seamless collaboration of these three genres of music. His performances include works by Jazz composers such as, George Gershwin, Erroll Garner, Esparanza Spalding, and Stevie Wonder to name a few. He has been researching on the connection that American Jazz and Indian Classical Music form, and incorporates the same in his performances.
He released his debut piano EP, Melancholic Rhapsody in February 2016, and went on to release his full length debut album, 'Perspectives', featuring over 65 musicians from across India. Both these records have released to critical acclaim. He has performed at, The Jaipur Literature Festival 2020, Curtain Raiser Event, Jashn-e- Rekhta 2020, pre event, Calcutta School of Music, Serendipity Arts Foundation and HCL Concerts, amongst many others.
Anand Kishore Chauhan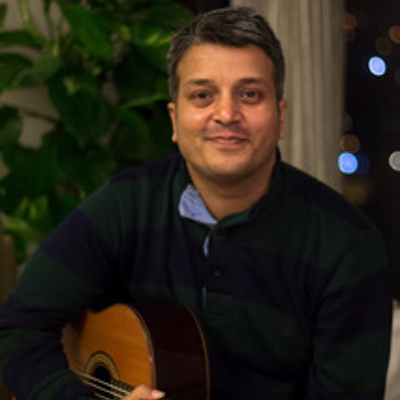 Anand Kishore Chauhan is a Guitarist /Vocalist/Composer /songwriter who hails from Simla Himachal Pradesh.
He started learning guitar from his school days, after completing his studies in year 2000 he moved to Delhi and started learning Western Classical under Jack Thomas and later from Theophlius Benjamin at Delhi School of Music. He also received scholarship during his study period from DSM,  after completing his Grade 8  in classical guitar he  joined Delhi School of Music as Guitar faculty.He is also grade 5 in electric guitar from Rockskool.
Apart from western Classical he has a deep understanding of Indian Classical Music as well and he holds a Master's Degree in Indian Classical vocal . Anand has been honing his skills under the tutelage of Pandit Bhola Nath Mishra of Benaras gharana for the last 17 years.He is also a graded artist in vocal from AlR(All India Radio) New Delhi.
He has immense experience of teaching music as well ,as he has been constantly teaching music to all age groups from six to sixty for roughly 17  years now.  At present he is also learning piano to constantly improve and upgrade his knowledge and understanding of music.
His composition 'Megh' has been selected and will be featured in the upcoming book on  Classical Guitar  compositions by Indian composers to be published by Indian Guitar Federation."Megh"was recently played at Oakland university Michigan USA in October 2017 by the music department Guitar faculty.
He has performed for the prestigious Calcutta International Guitar Festival 2016 recently ,where his playing and composition was much appreciated by guitar maestro Grammy winner David Russel he has also received some encouraging feedback from top guitar player around the globe ,Bruce Paine classical guitarist from New Zealand and Paul Cesarczyk to name a few.
When he is not teaching he is either composing or recording music at his home recording set up or recording for studios as a freelance guitarist/vocalist.